TAIPEI, TAIWAN – U.S. Senator Marsha Blackburn (R-Tenn.) joined Brian Wilson on SuperTalk 99.7 WTN live from Taipei in her first public remarks since landing in Taiwan.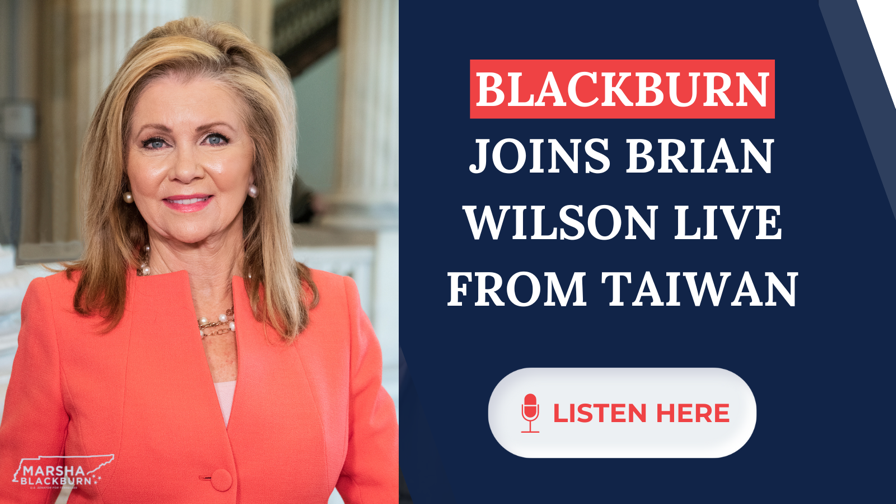 Listen to the full interview here or view a partial transcript below.
We Can Not Allow Communist China To Dictate U.S. Foreign Policy
"It is important to go to [Taiwan to] show that the Chinese Communist Party is not going to set the foreign policy for the United States of America. They are not going to be able to bully [a] free and independent nation. These are these are things that are important."
"When you look at manufacturing… autos…appliances…semiconductor and the electronic components are mighty important to us. And then also, when we look at the pressure from the Chinese Communist Party against the people of Taiwan, the government of Taiwan and also the other Pacific Island nations where I've worked this week on the issue of great power competition. [The United States must] help these nations [stand up to China]."

Meeting with President Tsai and Top Government Leaders
"I am on my way to our first meeting, prior to meeting with President [Tsai] and Foreign Minister [Wu]. I will make remarks today at the [Ministry of Foreign Affairs Institute of Diplomacy and International Affairs] and meet with the American Chamber here.