WASHINGTON, D.C. – Senator Marsha Blackburn (R-Tenn.) delivered floor remarks demanding answers on President Biden's Afghanistan Withdrawal.
To watch Senator Blackburn's speech, click below or here.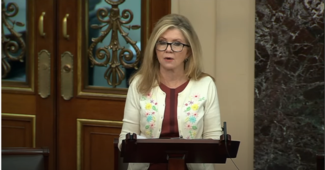 You can read the transcript below or in the Congressional Record.
Beyond the fact-finding mission, I plan to use these
hearings to impress upon my Democratic colleagues the importance of the
words that we use to describe our enemies, how we talk about them, how
we frame their actions.
Since day one--since day one of this administration--the Biden
administration has used their words to rehabilitate the Taliban in the
eyes of their radical base. The problem, of course, is that their
diplomatic calls for inclusivity and equality, this supports a lie
about who the Taliban actually is. The Taliban--like ISIS, like al-
Qaida--is a terrorist organization. They rule by fear. They rule
through public beheadings, rape, forced marriage, brutality against
anyone who questions their regime, against anyone who disagrees with
them. Look at the way women and children are treated.
Now, in my opinion and from a lot of Tennesseans whom I have talked
with as I have been home, they feel that expecting terrorists to behave
like normal people is reckless and stupid. And they feel that some of
the actions that have come from this administration and comments that
they would have that expectation would reflect that reckless stupidity.
These are terrorist organizations.
If you need another example of this, just look at their approach to
border security. Even before the transfer of power, massive migrant
caravans had begun moving out of Central America and toward the
southern border. They were eager to take advantage of then-Candidate
Biden's promises of open borders and amnesty for all.
Where did that get us? Well, this is what we have learned. The CBP
reports that migrant encounters along the U.S.-Mexico border reached a
20-year high in July. That is right, massive numbers. They heard those
promises. So what did they do? They got to work contacting a cartel,
and they made this journey after, of course, they paid the cartel. Most
of the nearly 200,000 people our Border Patrol caught in July were
traveling alone. Families might be holding back, but the international
traffickers certainly are not holding back.
On August 29, CBP officers in Memphis found three kilograms ketamine in a shipment of furniture from France coming in because of
the cartels. In the first week of September, CBP officers in Texas seized two
separate stashes of cocaine with a combined street value of almost
$300,000. In the month of July alone, cocaine seizures increased 91
percent, and meth seizures increased 20 percent. Why are they doing
this? They know that the border is open.
On September 8, Texas State Troopers and CBP officers stopped two
human smuggling attempts running just hours apart from each other. Our
CBP officers have made it standard procedure to scour remote terrain
for migrants who have been abandoned and left to die by their cartel
transporters. Why is this happening? Because it is obvious to everyone,
from the migrants, the cartels to the foreign officials who refuse to
police their own borders, that the Biden administration won't do
anything to stop it. Tennesseans see this as reckless. It makes no
sense.
I talked to some local law enforcement officers this week. They are
seeing an uptick in meth, fentanyl, and heroin on the streets--all
coming out of Mexico. They repeatedly say: Secure the border.
We live in the greatest Nation on Earth. We are still the world's
best example for freedom, and we are the last hope for millions of
people suffering under authoritarian rule. It is important to
understand that it doesn't have to be the way it has been when you look
at this withdrawal from Afghanistan, when you look at this open border,
when you look at the fact that, yes, this year, the border patrol has
apprehended terrorists at the southern border. That is right. It
doesn't have to be that way, but when you have weak leadership--
leadership that is not focused, leadership that says ``it is my way or
the highway''--and when you have that reckless disregard for the truth,
that can and will destroy us.
The actions of the Biden administration have already emboldened our
enemies. They have made our allies doubt our commitment to them and to
the work that they are trying to do to advance freedom for themselves--
the work that we are doing to advance freedom here in this country and
abroad.
So I would encourage my Democratic colleagues to resist the urge to
fall in line with the White House on the issue of the Afghanistan
withdrawal and to, instead, join me in demanding as many hearings as it
takes to restore accountability and transparency and to find out
exactly what happened.
What were our military advisers saying to President Biden? To Vice
President Harris? To Jake Sullivan? To Susan Rice? To Antony Blinken?
What were they telling them? What was the expectation? Did they have a
plan? Did they plan to leave Americans behind enemy lines? Did they
plan to give up Bagram Airfield? Did they plan to leave all of the
equipment for the Taliban to use? Did they plan on that? Was it
intentional that they made those decisions or was it reckless stupidity
that got us here?
I yield the floor.