WASHINGTON, D.C. – U.S. Senator Marsha Blackburn (R-Tenn.) visited the Hunter Wright Stadium, home to the Kingsport Axmen Minor League team, to discuss the Minor League Baseball Relief Act. Senator Blackburn introduced this legislation along with Richard Blumenthal (D-Conn.), Mark Warner (D-Va.), and Tim Kaine (D-Va.) and U.S. Representatives Doris Matsui (D-Calif.) and David McKinley (R-W.Va.) to provide emergency assistance to Minor League Baseball (MiLB) clubs that have been hit hard by the COVID-19 pandemic.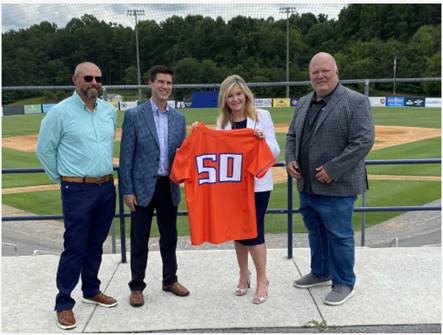 Click

here

to view more photos.
"The Volunteer State is home to some of the most enthusiastic minor league baseball teams, but for over a year, players, fans, and vendors have been kept out of the stadiums," said Senator Blackburn. "My bipartisan legislation provides emergency assistance to MiLB clubs in Tennessee and across the nation. Today, we celebrate the hard work of the Kingsport Axmen and all the teams in the Appalachian League!"
"The Kingsport Axmen are extremely excited and honored to have Senator Blackburn visit Hunter Wright Stadium this afternoon. We commend the effort she has made regarding the Minor League Baseball Relief Act of which she has been a strong advocate. Those efforts have not gone unnoticed, and we can't thank her enough," said Steve Brice, General Manager, Kingsport Axmen.
"Whether it was a minor league, collegiate or independent league team, all of these hosting communities have been effected by COVID in some capacity. Senator Blackburn's proposed legislation will provide aid that hopefully help these teams continue to operate," said Jud Teague, Executive Director, Visit Kingsport.