WASHINGTON, D.C. – Senator Marsha Blackburn (R-Tenn.) delivered floor remarks regarding President Biden's current spending.
To watch Senator Blackburn's speech, click below or here.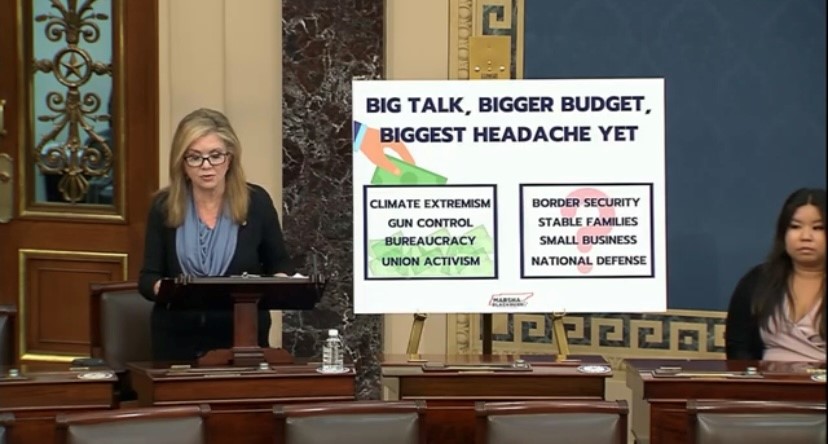 You can read the transcript below or in the Congressional Record.
Mr. President, we have a tendency in this Chamber to
talk about hindsight being 20/20, and I think that this is what we will
be doing in 10 or 20 years when we look back on the Biden
administration. I really expect that we will highlight all of the big
talk here in DC that has led to some really bad ideas the White House
has tried to legitimize through legislation and budget requests.
If you remember, even before the 2020 election, Biden's big talk on
amnesty welcomed the hundreds of thousands of migrants who are
currently flooding the southern border. He said: We expect to see these
migrants at the border.
So, yes, they heard him say, ``Y'all come,'' and they are coming.
His big talk on Green New Deal programs got us the boondoggle of an
infrastructure package that all but ignores roads, bridges, and
broadband. The people in Memphis, TN, have not appreciated some of this
talk of other items as infrastructure. They want bridge repairs
immediately. Then, just before Memorial Day, we got some more big talk
in the form of his $6 trillion budget request that reads like an
instruction manual on how to make our country less secure, less free,
and less competitive.
Back home in Tennessee, people looked at this thing, and they didn't
believe what they were seeing. At church last Sunday, I had some
friends ask me if the budget proposal was supposed to be a joke or if
this were serious because, when they look around, they see real need.
They see communities without broadband, small businesses that are
struggling to get back on their feet, and crumbling roads and bridges.
Yet what did the administration choose to do with their first budget?
They turned away from those needs. They decided to throw billions of
dollars at the environmental lobby to make it happy. They put in money
to
abortionists and to an already bloated Federal bureaucracy.
Tennesseans are looking at their own budgets and thinking about all
of the ways they have had to make tough choices over the past year, and
they are wondering why the Biden administration cannot seem to bring
itself to show some fiscal restraint. Why is it that they just say:
Crank up the printing press. Let's print more dollars. Let's put more
money in the system. Let's give everybody a check--and no worries about
who is going to pay the bill?
They are used to seeing the Democrats act in a very cavalier manner
about spending, and they are very much concerned about what they see
happening in Washington, DC. They know, without a doubt, that this is
really going to cost them and that it is going to cost their children
and their grandchildren, and as someone said this weekend, it is the
great-grandchildren who will bear the brunt of the Biden extravaganza.
They know better than to nod along with the administration's promises
that only the rich and the megacorporations will be responsible for
offsetting this massive spending program
I will tell you that they know how this works. They have seen it
before. They know that there are higher taxes at the top and that
higher taxes at the top of this wish list and on the top earners will
mean less investment in their communities, which will lead to stagnant
economic development, which will land them in the exact same place that
they were during the Obama-Biden years, except there will be the added
expenses of having to comply with future mandates the administration is
going to pile on them.
They know, when you take from the people who create the jobs and make
the investments and provide the goods that drive our economy, that you
are taking from the middle class, that you are taking from small
businesses on every Main Street in this country. You are making opening
that business too expensive to afford because you have taken those tax
dollars and you are using those dollars to grow union membership, to
show favoritism, and to pick winners and losers Washington, DC, style.
That is exactly how you destroy that competitiveness that makes
companies want to do business here and to emigrate here, and that makes
other countries a little nervous to stand toe to toe with us on the
international stage. This international element is important, and I
fear the Biden administration has lost that perspective.
If you look at the budget items related to immigration, it is clear
that the White House still thinks they can make it out of this border
crisis without having to admit that their policies have, indeed, caused
this crisis at our Nation's southern border. Yes, indeed, this is the
Biden border crisis. Instead of securing the border by investing in the
technology, infrastructure, and manpower our Border Patrol agents have
repeatedly asked for, the administration wants to focus on sending
foreign aid to the Northern Triangle, foreign aid without
accountability. This is a noble effort, but it will do nothing to
mitigate the disaster on the border that has since bled into the
communities that are now playing host to busloads of unaccompanied
migrant children, like we see in Chattanooga.
At least they decided to invest in a few more immigration judges. Yet
what we see them doing through this is making every town a border town
and every State a border State. They are transferring the costs to our
States and to our local communities--the costs for education, for
healthcare, for children's services, for social services, for housing.
The Federal Government doesn't want to admit they are incurring that
cost.
So what are they doing? At taxpayer expense, they are putting these
over a half-a-million illegal entrants onto airplanes, onto buses, and
they are sending them to communities around this country. That is what
they are doing, and that is what millions of Americans, including
thousands of Tennesseans, are pushing back on.
I have to tell you, I had a telephone townhall last night. It was
with some of the counties that are around Chattanooga, TN, in that
area, and COVID-19 and the immigration policies of the Biden
administration were the top questions that came up.
I will tell you that things don't look any better on the national
security front. If you account for inflation, you find out that the
topline request for the Department of Defense represents a $7 billion
decrease compared to fiscal year 2021 funding levels. That is right, a
$7 billion decrease for defense. Maybe they forgot that what we are
responsible for, first and foremost, is providing for the common
defense.
Talk about misplaced priorities. The Biden administration picked the
absolute worst time to undercut the military and employ President
Obama's demand to do more with less. We know from experience that it
takes between 3 and 5 percent in annual growth to keep our military and
national security programs competitive, and this budget doesn't even
come close to hitting that mark. For reference, China increased their
defense budget by 6.8 percent this year--oh, and who is our main
competitor when it comes to great power competition? You are right. The
answer is China, absolutely.
Biden's budget, on the other hand, asks for $112 billion in R&D
spending, but it cuts procurement spending. Imagine that. This means,
as of right now, the administration has no plan to put that R&D to good
use. Keep doing the research and development, but by the way, we are
not planning to purchase. Think about that. Think about the message
that sends to our allies and the message it is sending to our
adversaries.
They paid lip service to supporting our nuclear programs, but earlier
this month, the Secretary of the Navy sent a strategic memo ordering
the service to defund the development of the nuclear sea-launched
cruise missiles that are essential for deterring China in regional
waters. That is right. The Secretary of the Navy sent a strategic memo
ordering the Navy to defund the development of the missiles that are
essential for deterring China in regional waters.
The kicker? All of this is to be done before the Nuclear Posture
Review is even completed. So don't wait for the report. We need an
outcome, and the outcome is, Let's make ourselves less competitive.
This is astounding. Instead of following the directives that have
clearly been laid out by last year's NDAA and investing in a combat-
credible force, the budget guts and confuses the mission driving the
Pacific Deterrence Initiative, and this has had bipartisan support.
Keep in mind that this is the best set of tools we have against Chinese
aggression in the Indo-Pacific region, and the Biden administration has
decided to use it like some sort of slush account for projects that, in
a normal year, would be funded under other categories.
They are going for an outcome. The outcome is not ``America first''
or an America able to defend. Their budget is cutting defense. Their
budget is cutting these cruise missiles. It makes no sense.
And I can assure you, as we begin the NDAA negotiations, that this is
something that will deserve and will get a full review.
I have said it before and I will say it again: The American people
understand that elections do have consequences. They knew that some
priorities would change with President Biden. Even my friends back home
who voted for President Biden will tell me they liked what they heard
on the campaign trail from him. But they will also tell you they did
not vote for this.
They did not vote for what is happening, for the Executive orders
that are coming out of this administration, for the ridiculousness that
they see in this budget. They did not vote for tax plans that will
stand in the way of local investment with small businesses. They did
not vote to make things more expensive and scarce at the grocery store.
They did not vote to fund a bloated and power-hungry Federal
bureaucracy. They didn't vote to leave our border in shambles, to wreck
our Nation's sovereignty.
They certainly didn't vote for a defense strategy that will allow the
Chinese Communist Party to expand their influence into underdeveloped
countries and threaten our allies in the Indo-Pacific. No, they did not
vote for that.
Our National Guard men and women, our men and women who every day are
in service there at Fort Campbell--God
bless them. And we worry about the lack of attention to defense.
I would remind my Democratic colleagues that any action they take on
this budget proposal won't exist in a vacuum, and I ask them to
reconsider their justification for asking the American people, who just
survived a global pandemic and a near total economic collapse--I think
they should reconsider their justification for asking them to bankroll
an activist-driven, radical, fantasy budget that nobody really asked
for.
I yield the floor.