Senator Marsha Blackburn speaks on the floor of the U.S. Senate to thank Defense Fellow Captain Edward Pritchard for his service to Team Blackburn.
To watch Senator Blackburn's speech, click below or here.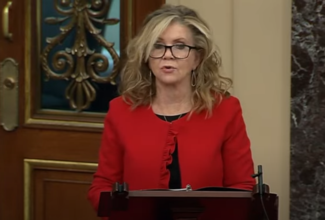 You can read the transcript below or in the Congressional Record.

Madam President, the time has come to once again bid farewell to another one of Team Blackburn's esteemed fellows.

Over the past year, we have had the privilege of working with Capt. Edward Pritchard, who came to us from the U.S. Marine Corps to serve as our first Department of Defense fellow.

It was a strange year to be a fellow here in the Senate, but Ed rose to the occasion and impressed us. He impressed every one of us with his work ethic, humor, and his singular commitment to maintaining the strength and integrity of the U.S. military.
It has truly been an honor having Ed on our team, and I think I speak for each and every one of us when I say we will miss him.

Captain Pritchard, I thank you for your service to Tennessee and to this great Nation and wish you all the best as you head across the river to the Pentagon to start the next exciting chapter in your already distinguished career.