WASHINGTON, D.C. – Today, Senator Marsha Blackburn (R-Tenn.) joined Majority Leader Mitch McConnell (R-Ky.) in congratulating Senator Lamar Alexander (R-Tenn.) on serving in a statewide office longer than any other Tennessean. Senator Alexander has served either as governor or as a United States Senator for 24 years, 8 months and 15 days.
To view the Senator's full remarks, click below or HERE.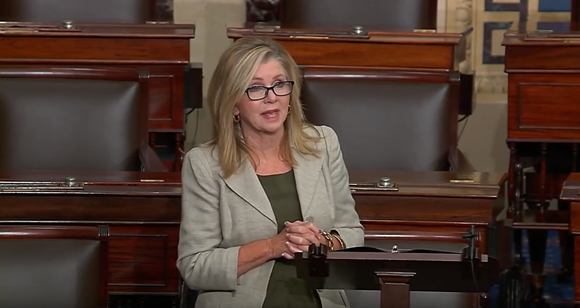 REMARKS AS PREPARED
Thank you, Mister President.
I am no stranger to Washington, but serving in the Senate is a relatively new experience.
Still, even I know how odd it will be to not see my friend, the senior Senator from Tennessee, here in this chamber, in the cloakroom, and in the halls around Capitol Hill.
In Washington, and in Tennessee, Senator Lamar Alexander has distinguished himself as a man committed to Tennessee tradition, and to helping Tennessee find prominence on the global stage.
Now, anyone who has ever walked into Senator Alexander's home or office knows that he is a music lover—but what they may not know is that he is also a classical and country pianist! He's even performed on the Opry stage—and that's no small accomplishment.
His love of music extends to those who create it. While I was busy forming the Songwriter's Caucus in the House, Senator Alexander organized his own version in the Senate.
He has spent his career fighting for artists and songwriters to be paid fairly for their work.
Just last night, the Nashville Songwriters Association International gave him their "White Hat Award" for his leadership in passing the Music Modernization Act—an honor we both share.
Just an aside on that White Hat Award—the songwriters have only awarded it about 15 times in NSAI's 52 year history.
As governor, Senator Alexander opened the state's doors to the auto industry, recruiting Saturn, Nissan, and auto parts producers, which solidified Tennessee's place in the global economy.
As Senator, he focused on improving Tennessee from the inside out, giving priority to practical concerns.
He led the charge on health care, education, and the opioid crisis. He supported teachers, stood up for working moms, and enacted tax policies that kept more money in the wallets of Tennesseans.
Mister President, today I rise to honor a leader, friend, and the team captain of the Crockett Cup champs—Senator Lamar Alexander. Tennessee Tuesday will not be the same without him.
I yield the floor.