'In Nashville, we have a saying: It all starts with a song.'
WASHINGTON, D.C. – Senator Marsha Blackburn (R-Tenn.) spoke on the Senate floor this evening to congratulate the singers and songwriters who have been inducted into the Country Music Hall of Fame this year: Kix Brooks, Ronnie Dunn, Ray Stevens, and Jerry Bradley.
To watch the Senator's remarks click below or HERE.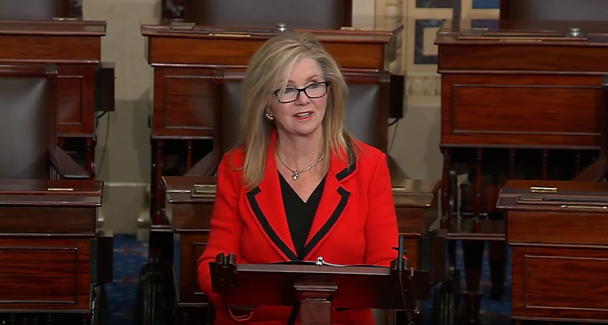 REMARKS AS PREPARED
Thank you, Madam President.
In Nashville, we have a saying: It all starts with a song.
It's the truth; but I will tell you, that's not where the story ends. It is where it begins.
Every record that makes it out into the world is backed by a team of hardworking and creative individuals whose job it is to bring the music to the masses:
The songwriters, who find a way to express feelings us mere mortals could never hope to put down on paper.
The studio musicians, whose refined technique satisfies even the most sensitive microphones.
The producers, whose vision and intuition can turn a song into a hit record.
And the label heads, whose job it is to take a chance on new artists, in hopes of discovering the next country superstar.
Each year, the music industry's movers and shakers come together to decide who amongst them is worthy of a place in the industry's most sought-after circle: the Country Music Hall of Fame.
The Country Music Association inducted their first Hall of Fame class in 1961; and since then, the CMA has welcomed some of the most well-known and beloved members of Nashville's entertainment community into the Hall's ranks.
This year's inductees have made their mark on both sides of the studio glass.
Kix Brooks and Ronnie Dunn—we know them as "Brooks and Dunn"—started out as solo singer-songwriters, but rocketed to stardom as a duo.
Their first album produced four #1 singles and sold almost three million copies—all in the pre-smartphone, pre-streaming era.
Since then, Kix and Ronnie's over 40 top ten hits, 20 #1 singles, and 12 platinum-plus albums have earned them the distinction of being one of the most successful country duos of all time.
And they've done it all while writing their own songs, designing their own shows, and supporting the art of up and coming performers.
This dedication to the future of country is why Brooks & Dunn will be inducted into the Hall of Fame in the "Modern Era Artist" category.
Now, when you think "country music," you probably think of steel guitars and broken hearts—but this year's second Hall of Fame inductee really just wants to make you smile.
Ray Stevens is one of the most successful comedy recording artists of all time, but he made his mark on Nashville as a songwriter, studio musician, producer, and gospel singer, in addition to being a star comic and country entertainer.
If you look at his catalog, there really is something for everyone. His work spoke to fans in need of a laugh, or spiritual guidance, or a song to sing along to after a hard day.
Ray's wonderful sense of humor, open heart, and commitment to entertainment as an art form made him a Music City standout, and the perfect choice to earn the distinction of "Veterans Era Artist" in the Country Music Hall of Fame.
Jerry Bradley, this year's third and final inductee, may not have invented country music, but no one on Music Row would deny the impact his work has had on the success of generations of country stars.
Jerry Bradley began his career in music as Nashville was on the brink of transformation. He understood that fans and artists alike were looking to explore a new sound—and he gave them exactly what they asked for.
He signed bands no other label would touch, mixed records no other producer could match, and, embraced the importance of the "crossover artist" as the ambassador of a new "Nashville sound."
His tendency to ignore "conventional wisdom" more than paid off: he achieved commercial success, and earned the attention of Nashville's tastemakers—before becoming one himself.
This year, the Country Music Association will induct Jerry into the Hall of Fame as a "Non-Performer"—but also as one of the most influential people in the history of the entertainment industry.
Today, I encourage my colleagues to take a moment to think of their favorite song—whether it's a country song, or a pop song, or a classic rock hit—and to remember how it made them feel the first time they heard it.
This year's Country Music Hall of Fame inductees—Kix Brooks, Ronnie Dunn, Ray Stevens, and Jerry Bradley—are responsible for making millions of people feel that exact same way about their favorite song.
The body of work these men represent is more than just a series of "accomplishments."
It is a gift.
I yield the floor.