Washington, D.C. – Senator Marsha Blackburn capped off her first full week as Senator by encouraging constituents to reach out to her offices throughout Tennessee and in the nation's capital.
"Our offices are open for business and already serving people across the state," said Senator Marsha Blackburn. "In our first week alone, we have opened five offices in Tennessee with plans to open more soon. We have fielded thousands of phone calls from constituents on a range of concerns. From introducing legislation to protect the unborn to meeting with Tennesseans visiting our nation's capital, this was a great first week."
The contact information for Senator Blackburn's offices can be found below.
Chattanooga
10 West M. L. King Blvd., 6th Floor
Chattanooga, TN 37402
Telephone (423) 541-2939
Jackson
91 Stonebridge Blvd, Suite 103
Jackson, TN 38305
Telephone (731) 660-3971
Knoxville
800 Market Street, Suite 121
Knoxville, TN 37902
Telephone (865) 540-3781
Memphis
100 Peabody Place, Suite 1125
Memphis, TN 38103
Telephone (901) 527-9199
Tri-Cities
1105 East Jackson Blvd, Suite 4
Jonesborough, TN 37659
Telephone (423) 753-4009
Washington D.C.
B40B Dirksen Senate Office Building
Washington, DC 20510
Telephone (202) 224-3344

- WEEK IN REVIEW -
INTRODUCED FIRST BILL AS SENATOR TO PROTECT THE UNBORN
Senator Blackburn introduced her first bill in the United States Senate this week. S. 105, the Title X Abortion Provider Prohibition Act strips all abortion providers, including Planned Parenthood, of federal funding under Title X of the Public Health Service Act. "Tennesseans and the American people do not want their tax dollars funding abortions," said Senator Blackburn. "They have made this position clear time and again. Hardworking taxpayers do not want to subsidize the business of abortion providers and entities such as Planned Parenthood."
RECOGNIZED SERVICE ACADEMY NOMINEE JOSEPH PERAZZINI
Blackburn met with Joseph Perazzini from Montgomery Bell Academy in her Washington, D.C. office. Blackburn said she was honored to nominate Joseph for admission to the Naval Academy and Merchant Marine Academy and wished him the very best of luck.
DISCUSSED TENNESSEE DEFENSE PRIORITIES WITH ARMY SECRETARY ESPER
Senator Blackburn met with Secretary of the Army Mark Esper at the Pentagon this week to discuss defense priorities. As a new member of the Senate Armed Services Committee, Blackburn said her top priority will be protecting the mission and jobs at Fort Campbell and military installations in Tennessee. Secretary Esper's first assignment was at Fort Campbell with the 101st Airborne Division.
MET WITH ATTORNEY GENERAL NOMINEE BILL BARR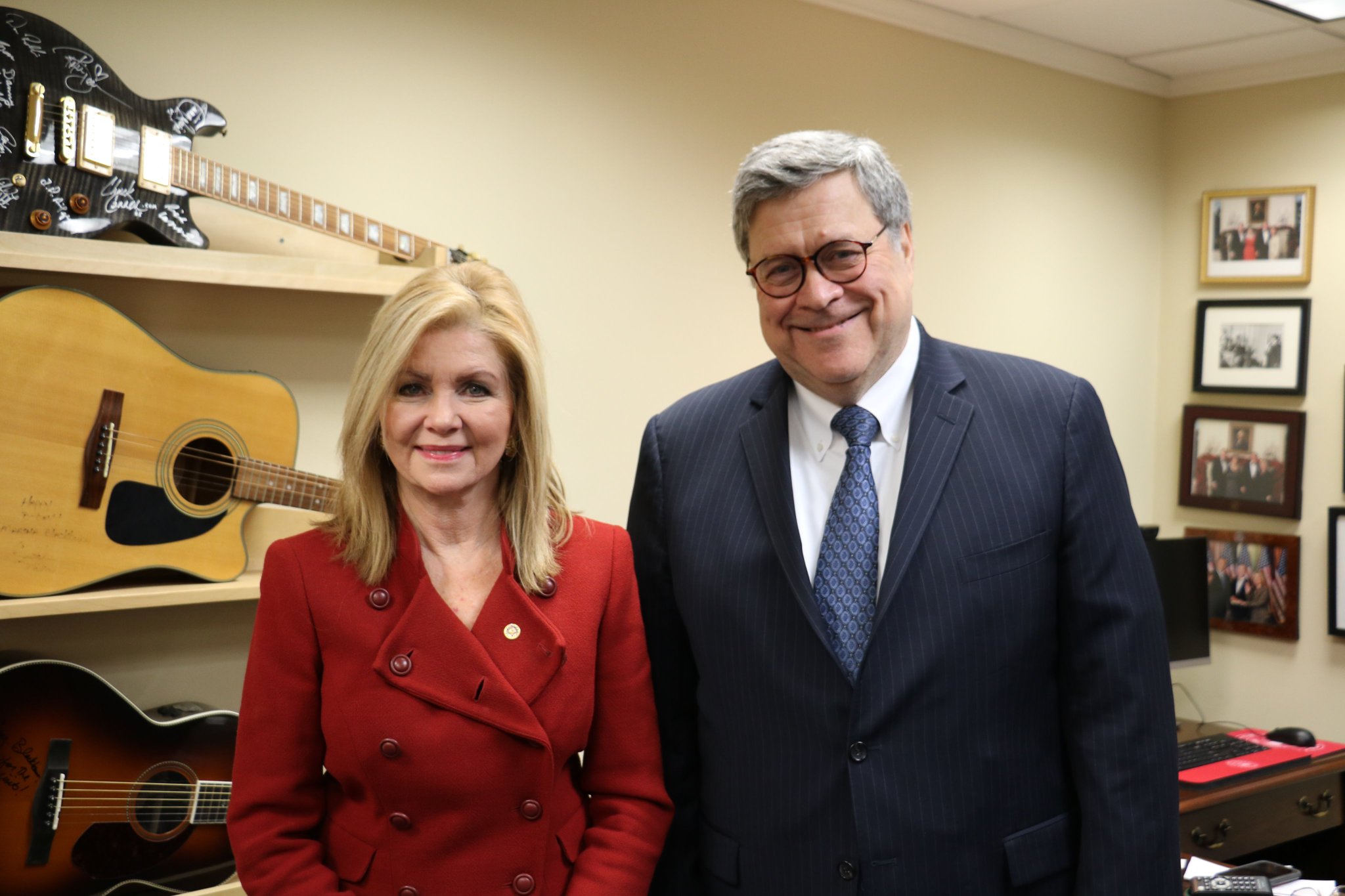 On Thursday, Senator Blackburn met with Bill Barr, President Trump's nominee to serve as Attorney General. Blackburn said Barr's experience working under President George H.W. Bush and legal expertise made him a great candidate for the position. As a member of the Senate Judiciary Committee, Blackburn will be questioning Barr at his confirmation hearings next week.
Senator Blackburn encourages her constituents to follow the work she is doing for Tennessee on social media.
Facebook: facebook.com/marshablackburn
Twitter: @MarshaBlackburn
Instagram: @MarshaBlackburn