U.S. Senator Marsha Blackburn (R-Tenn.) is spearheading new bipartisan legislation to reduce the smuggling and trafficking of girls and young women, which is particularly a problem at the U.S.-Mexico border. The SAVE Girls Act is co-sponsored by Senators Amy Klobuchar (D-Minn.) and Cindy Hyde-Smith (R-Miss.).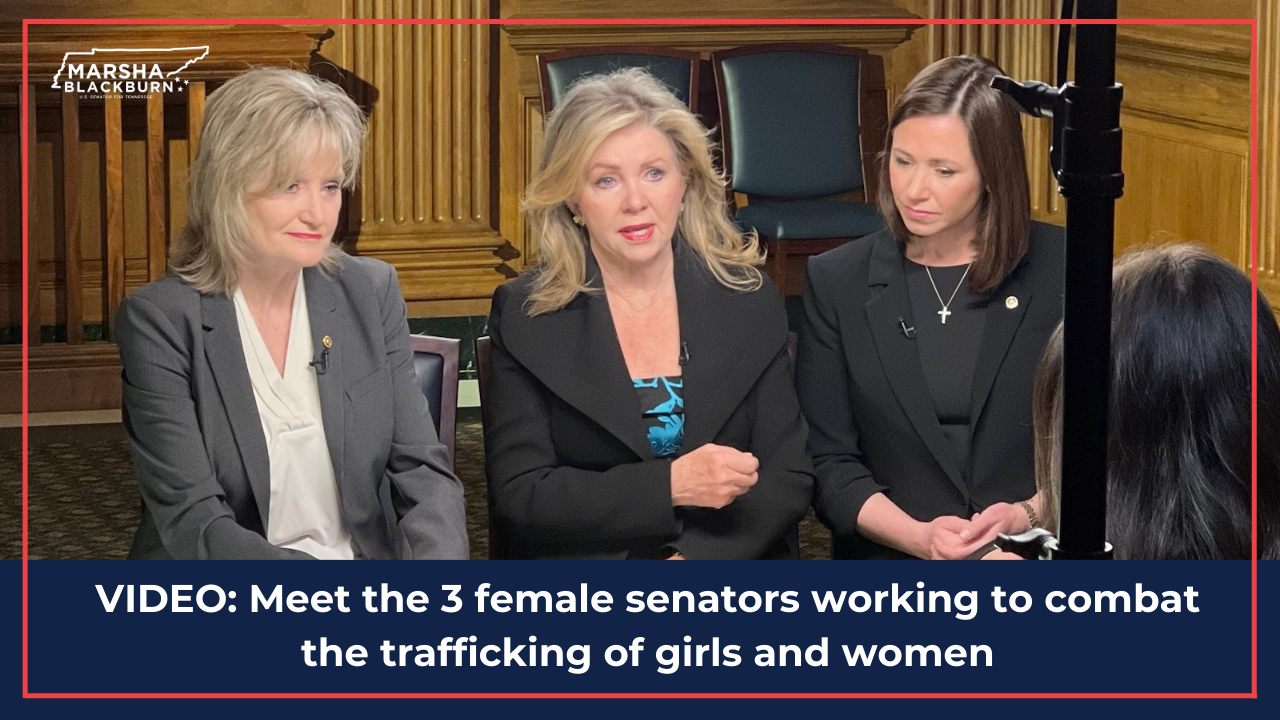 Watch the interview with Blackburn, Hyde-Smith, and Britt here.
New bill targeting the smuggling of girls earns bipartisan support, as Congress deadlocks on broader immigration reform
Liz Brown-Kaiser and Julie Tsirkin
NBC News
As Washington remains gridlocked over comprehensive immigration reform, an effort to help tackle the human trafficking crisis at the southern border is picking up bipartisan support.

Sen. Marsha Blackburn, R-Tenn., will introduce legislation that would authorize $50 million to aid state and local governments along with nongovernmental organizations in combating the smuggling of young women and girls. The Stopping the Abuse, Victimization and Exploitation of Girls (SAVE Girls) Act seeks to prevent the trafficking and smuggling of vulnerable women across the country — in particular, those who have been brought illegally across the U.S.-Mexico border.

The legislation has garnered buy-in across the aisle, with Sen. Amy Klobuchar, D-Minn., throwing her support behind Blackburn's bill. Blackburn argues that addressing the humanitarian issue at the border shouldn't be partisan, even as immigration continues to be a politically contentious subject.

The bill comes after Blackburn traveled to the border on a congressional delegation with two fellow female Republican senators in January. She, along with Sen. Cindy Hyde-Smith, R-Miss., and freshman Sen. Katie Britt, R-Ala., told NBC News in an interview that border patrol agents along the Rio Grande "begged" for help in combating the trafficking problem.

"Let's work together. Let's work in a bipartisan basis," Blackburn said, pointing to trafficking and the fentanyl epidemic as possible areas of compromise. "Let's pass some things that are going to help secure this border, that are going to protect our children, that are going to protect our communities so that parents know when your kids go to college, they're safe."… READ MORE.

RELATED:
Read more about Senator Blackburn's bipartisan SAVE Girls Act, which provides states, local governments, and non-profits with the vital resources they need to put an end to the trafficking of young women and girls.
Watch Blackburn, Hyde-Smith, and Britt expose the harsh reality of the border crisis during their January visit.
###