U.S. Senator Marsha Blackburn (R-Tenn.) introduced legislation to ensure human and drug traffickers cannot continue to defraud the American taxpayer while they await prosecution and conviction. Senator Blackburn introduced the Stop Taxpayer Funding of Traffickers Act following her recent visit to the Del Rio Sector of the U.S.-Mexico border.
This legislation is also cosponsored by Senators Cindy Hyde-Smith (R-Miss.), Katie Britt (R-Ala.), and Mike Braun (R-Ind.). Representative Kat Cammack (R-Fla.) led the legislation in the U.S. House of Representatives.
According to the Tennessee Bureau of Investigation (TBI), Human Trafficking Intelligence Analysts processed 1,268 tips in Fiscal Year 2021-2022, 621 of which involved minors. In 2022, more than 184,000 fentanyl-laced pills were confiscated by the Louisville, Kentucky Drug Enforcement Administration (DEA) division, which includes Tennessee, Kentucky, and West Virginia. They also seized more than 316 pounds of fentanyl powder.
"For two years, President Biden's open border policies have emboldened the cartels and caused human trafficking to grow to a $13 billion industry, with criminal cartels earning up to $14 million each day. Last year alone, law enforcement seized over 14,000 pounds of fentanyl at the border, enough to kill over 3.3 billion people. We cannot continue to incentivize this blatant criminal activity. This legislation ensures that hardworking American taxpayers – already crushed by inflation – are not forced to fund the lifestyles of offenders who are making our country more dangerous," said Senator Blackburn.
"Entire communities are destroyed at the hands of drug and human traffickers, and it's appalling that some of those very communities' tax dollars go toward putting up these criminals in government housing," said Senator Hyde-Smith. "This legislation would ensure that traffickers can't enjoy such government benefits after they've been charged for drug or human trafficking offenses."
"American taxpayers shouldn't be forced to subsidize the monsters who are taking advantage of the Biden Administration's border crisis to traffic vulnerable people and deadly drugs," said Senator Britt. "These criminals are causing untold suffering in every corner of our country -- stealing lives, destroying families, and devastating communities at record rates. It is time to seal and secure the border and end the incentives and loopholes that are fueling the crisis. I am grateful for Senator Blackburn's continued leadership on this critical topic."
"Over the last two years, we've seen the horrific consequences of the Biden Border Crisis, including the devastating toll on our communities nationwide from drug and human trafficking. In Marion County, Florida, our sheriff's department has recovered bricks of fentanyl with stamps from border cartels, alongside pill presses and sophisticated distribution plans. Our first responders gear up each day to save lives from fentanyl overdoses occurring almost daily, putting their own lives at risk," said Representative Cammack. "Those responsible for trafficking drugs and people into our country at our borders and in our waters should not receive federal assistance after violating our laws—not only is it wrong, but it rewards those who have perpetuated this deadly crisis. I'm pleased to join Senator Blackburn on this effort and look forward to growing this legislation's support with my colleagues."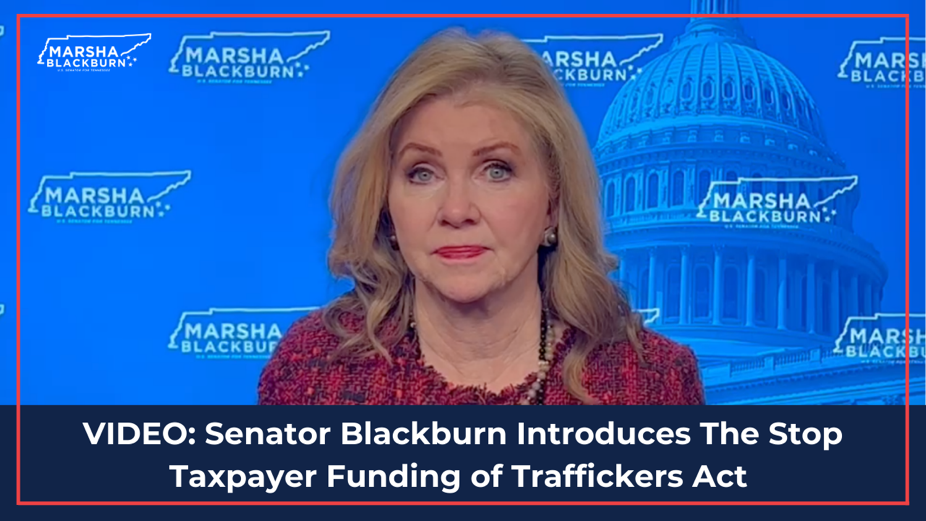 View or download Senator Blackburn's video on the bill here.
This legislation has the support of the Federal Law Enforcement Officers Association, the Putnam County (Tennessee) Sheriff, the Montgomery County (Tennessee) Sheriff, and the Cochise County (Arizona) Sheriff.
"Traffickers have a devastating impact on communities across the country, particularly border communities. For these criminals to exploit a gap in the law to reap taxpayer funded benefits is unconscionable. We applaud Senator Blackburn for closing this gap. Additionally, by providing back payments to an individual if charges are dropped, this legislation strikes the right balance between protecting taxpayer funds and serving the ends of justice. We urge the Senate to swiftly advance this bill," said Larry Cosme, President of the Federal Law Enforcement Officers Association.
"We appreciate the work Senator Blackburn is doing to stop human and drug traffickers. We cannot continue to allow violent criminals to exploit lax laws and fill their coffers with government benefits. Traffickers are killing Tennesseans every day with fentanyl laced drugs. We need to stop these criminals from receiving our hard-earned tax dollars," said Sheriff Eddie Farris, Putnam County, Tennessee.
"Local law enforcement officials, along with the mounting number of victims, family members of victims, and state and federal officials, have begged and pleaded with the Biden administration to properly address this crisis. Instead of solutions, we continue to see the criminal enterprise flourish at our border! We are paying for this crisis with our lives, and our money. This is outrageous. A big thank you to my Senator, Marsha Blackburn, for acting by introducing the Stop Taxpayer Funding of Traffickers Act. This bill will prohibit anyone charged with drug or human trafficking at our border or in our territorial waters, from receiving federal benefits. It is shameful that legislation must be enacted where common sense should prevail," said Sheriff John Fuson, Montgomery County, Tennessee.
"As a border Sheriff, I have witnessed the senseless tragedies on our southern border at the evil control of ruthless and violent criminal transnational organizations, i.e. cartels. These cartels exploit their criminal enterprise based on fear, violence and greed. I support and commend Senator Blackburn for her efforts to pass legislation for those directly responsible in these types of criminal acts that violate Public Safety - National Security and Humanitarian offenses,"said Sheriff Mark Dannels, Cochise County, Arizona and NSA Border Security Chair.
Even after offenders are charged with federal drug and human trafficking offenses, many of them continue to live in government housing and receive other government benefits while they persist in exploiting and trafficking women and children or smuggling drugs across our border.
The Stop Taxpayer Funding of Traffickers Act:
Prohibits anyone charged with drug or human trafficking at our international borders or in our territorial waters from receiving federal government benefits.
Defines "drug trafficking offense" as any federal offense that includes as an element the distribution of a controlled substance.
Defines "human trafficking offense" as a range of offenses, including smuggling, transporting, and harboring individuals.
Defines "federal benefit" to include the issuance of any grant, contract, loan, professional license, or commercial license provided by an agency of the United States or by appropriated funds of the United States, as well as any retirement, welfare, Social Security, health, disability, veterans, or public housing benefit.
In the event that the charges are dismissed or the individual is acquitted, provides for back payment of benefits to any individual deprived of benefits under this section.
Find a copy of the bill text here.
Find photos and b-roll Senator Blackburn's January border trip.
###