U.S. Senator Marsha Blackburn (R-Tenn.), a member of the Senate Finance Committee, and Senator Mike Braun (R-Ind.) today introduced the IRS User Fee Reduction Act. This legislation would require the IRS to reduce user fees by 95 percent for businesses earning less than $2.5 million in gross income.
According to the Small Business Administration, there are over 650,000 small businesses in Tennessee, comprising 99.5 percent of all businesses in the Volunteer State.
"Democrats want to weaponize the IRS by giving them billions of dollars, authorizing thousands of new agents, and allowing them to raise user fees for small businesses. I often hear from business owners across Tennessee fed up with exorbitant fees that leave them at risk of non-compliance. The IRS User Fee Reduction Act takes an important step toward making IRS services more accessible to everyday businesses, preventing massive government overreach, and providing much-needed relief in Joe Biden's economy," said Senator Blackburn.
"The IRS claims to go after the wealthy, but has continued to target small businesses and lower- and middle-income earners. As a lifelong Main Street businessman, I know that the last thing America's small business owners need right now is for the IRS to hike user-fees," said Senator Braun.
"This bill lowers IRS fees for businesses, which is especially helpful during these times of high inflation. I appreciate Senator Blackburn working on behalf of small business owners across Tennessee," said Mark McBride, President of Cox Oil Company, Union City, Tennessee.
"I appreciate Senator Blackburn's hard work on behalf of the Volunteer State. Reducing IRS user fees will go a long way in providing necessary support and relief to small business owners like myself," said David Kelley, Owner of David Kelley Jewelers, Somerville, Tennessee.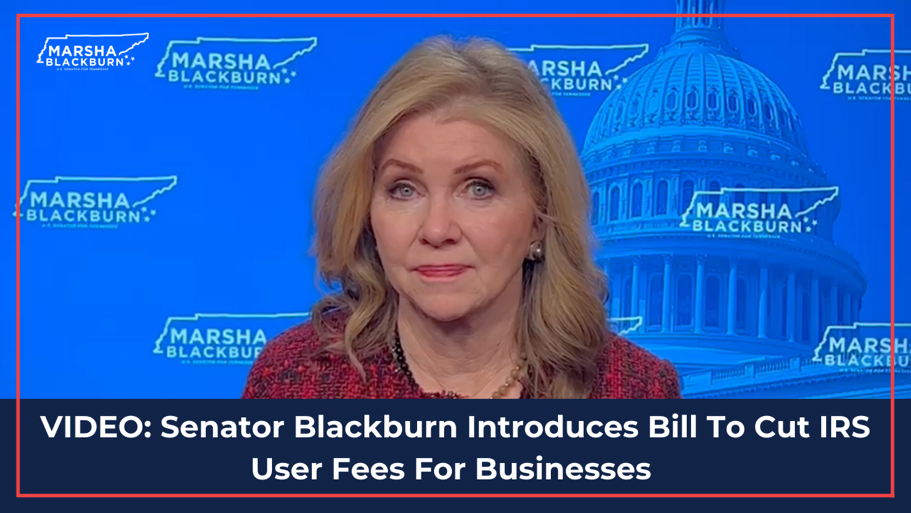 Download or view Senator Blackburn's video here.
BACKGROUND:
Over the past decade, user fees have skyrocketed, making a basic IRS service inaccessible to many small and mid-sized businesses.
Many taxpayers desire the opportunity to work with the IRS to comply but cannot afford the well into five-figure default user fee imposed on top of the annual IRS funding.
Click here for the bill text.