Body
THE BLACKBURN REPORT

March 15, 2019


Tennessee Tuesday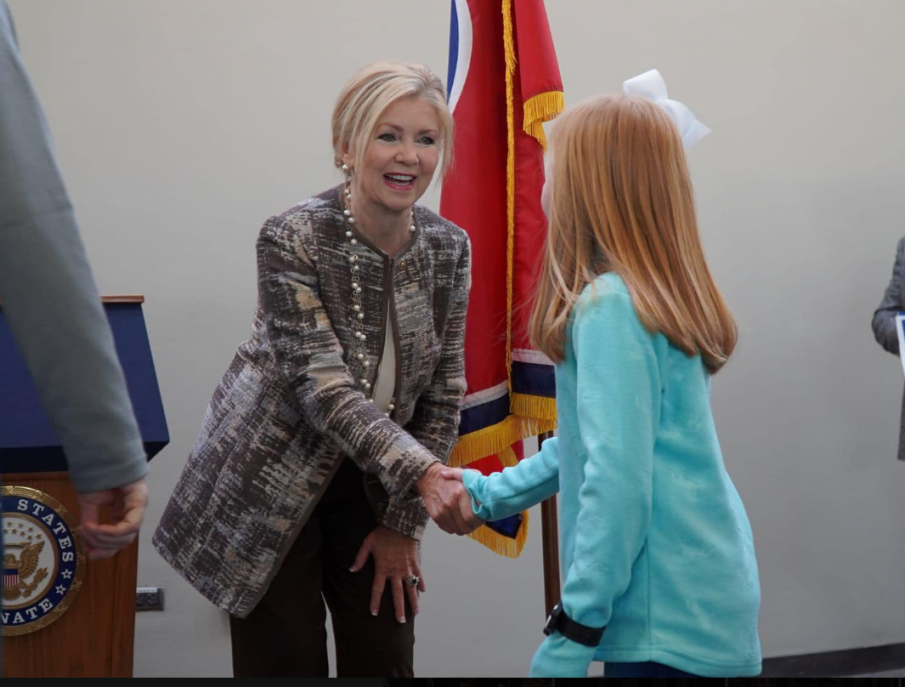 Another terrific Tennessee Tuesday is in the books! It was a pleasure to welcome 160 Tennesseans to our nation's capital for coffee, conversation, and pictures. If you are planning to be in Washington, D.C. on a Tuesday that the Senate is in session, we would love for you to attend this special Tennessee tradition. Constituents attending will have the opportunity to meet and have their picture taken with their senators while enjoying a light breakfast. You can sign up to attend here and view all the photos from Tennessee Tuesdays on my Facebook page.



Voting to Secure the Border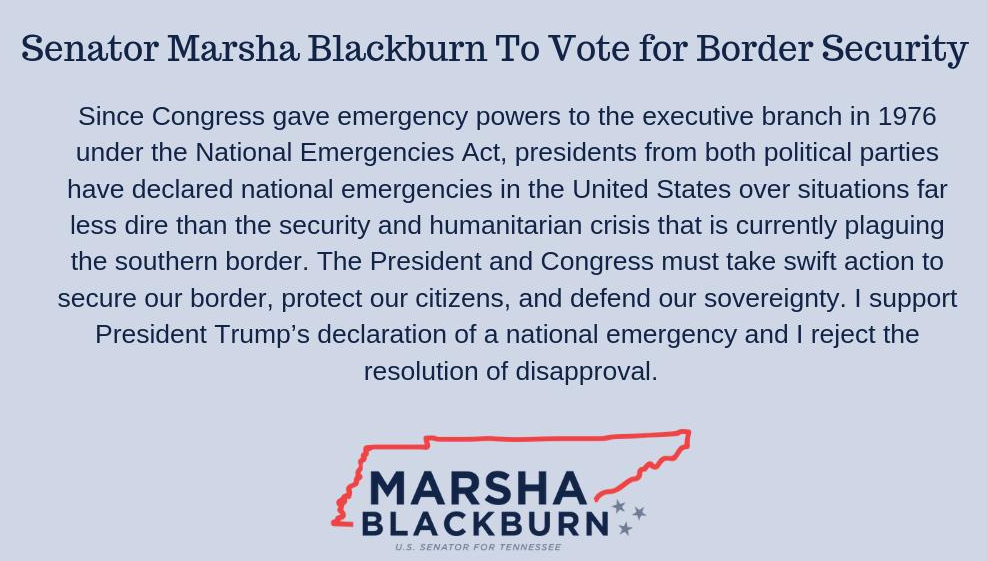 On Thursday, I voted no on House Speaker Nancy Pelosi's resolution to block President Trump's southern border emergency declaration.

You can view my full remarks about this important vote and the need for border security here.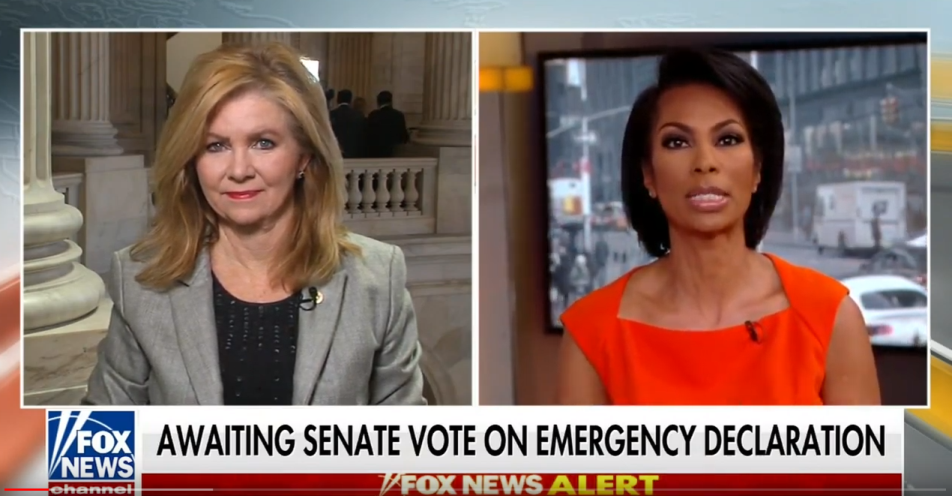 I spoke with Harris Faulkner on Fox News just before I voted no on the resolution. ICYMI: Watch our discussion here.



Confirming Pro-Constitution Judges

Today marks the 252nd anniversary of President Andrew Jackson's birthday. Lately, I've been thinking about the legacy of this great Tennessean and his words about our federal judiciary. "All the rights secured to the citizens under the Constitution are worth nothing, and a mere bubble, except guaranteed to them by an independent and virtuous Judiciary," President Jackson remarked in 1822.

This week, I voted to confirm another one of President Trump's outstanding nominees to the federal bench. Neomi Rao was confirmed to serve as U.S. Circuit Court Judge for the District of Columbia, the seat previously held by Justice Brett Kavanaugh. She will do an excellent job faithfully upholding the Constitution and the rule of law.

So far, President Trump has appointed and the Senate has confirmed two Supreme Court Justices, thirty-six appellate judges and fifty-three district court judges. As a member of the Senate Judiciary Committee, I am committed to keeping this streak going.

You can view my full remarks on the need to continue to confirm solid, originalist judges to the federal bench here.
Welcoming East Tennessee State University Students to D.C.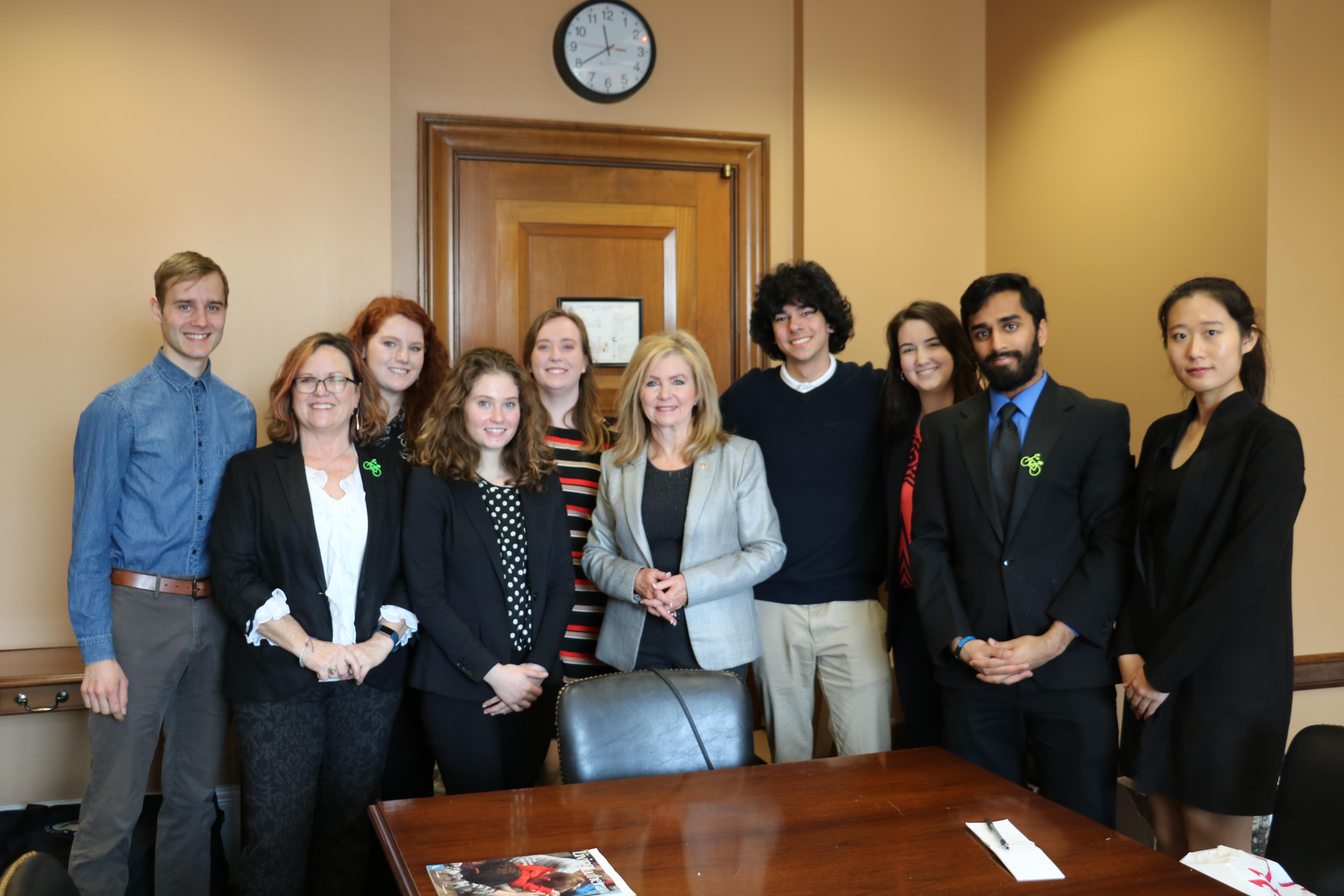 I was delighted to welcome a great group of students from East Tennessee State University to my office in Washington to discuss their studies and their interreligious immersion program. Wishing you all the best of luck in your future endeavors. You can follow the work of ETSU students on Twitter @ETSU.
Talking with the Tennessee Credit Union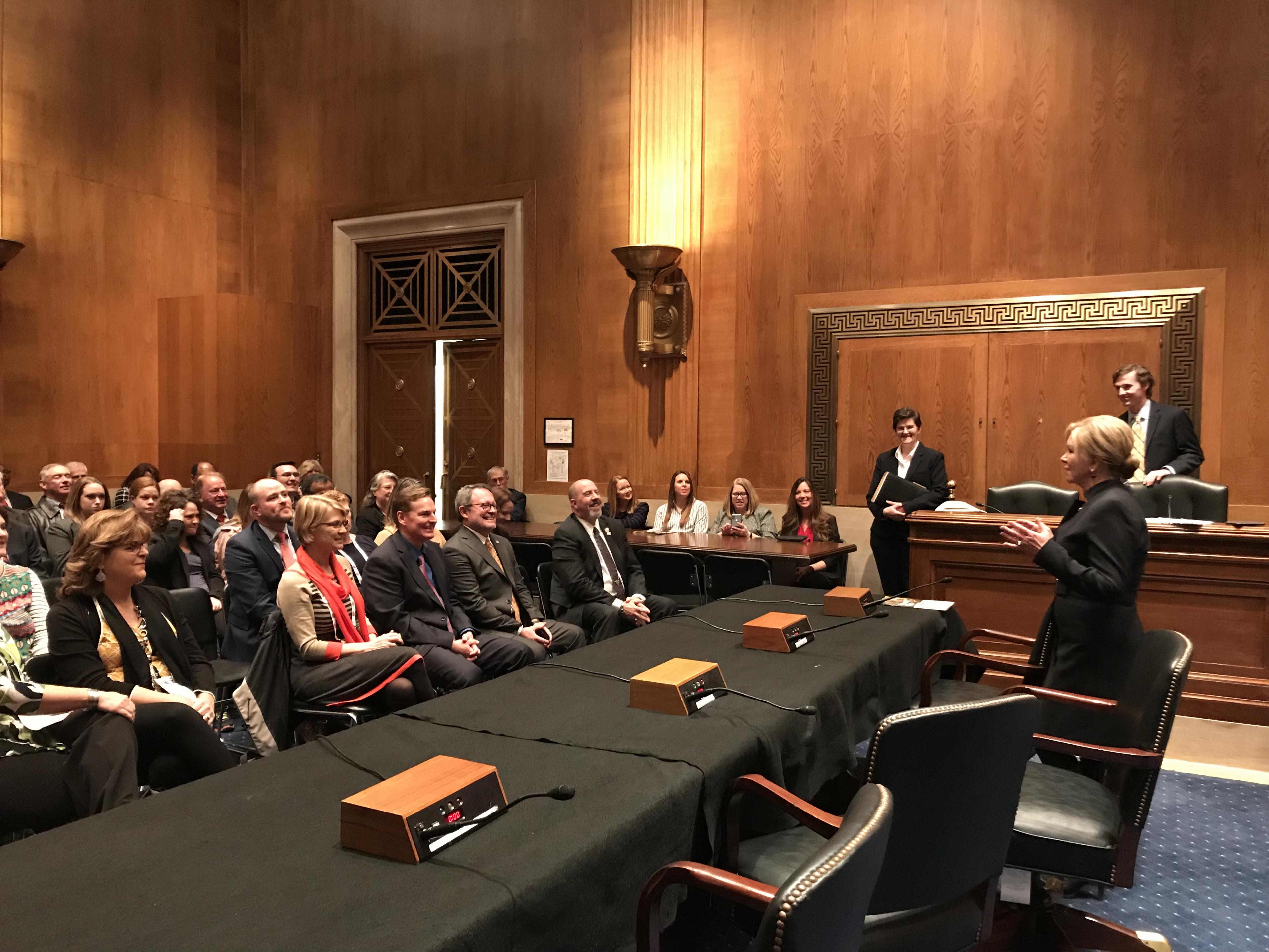 I had the opportunity to speak with several members of the Tennessee Credit Union who were visiting Washington this week. There were over 80 representatives from across the state in attendance. We spoke about my work on the Senate Commerce and Judiciary Committees related to national data privacy, cybersecurity, and data security standards. Members of the group also shared stories about how they helped Tennessee federal employees impacted by the partial government shutdown and recent flooding by waiving fees and offering low-to no-interest loans.
Supporting Governor Lee's State of Emergency Declaration
I strongly support Governor Lee's decision to declare a state of emergency after 83 of Tennessee's 95 counties experienced damage caused by severe rainfall and flooding. Governor Lee's executive order will help streamline the process for accessing federal funds and ensuring those dollars help Tennesseans affected by the tragedy created by this flooding. My office stands ready to help with the recovery efforts in any way we can. Please contact any of our Tennessee offices if you need assistance. Contact information can be found below.