Body
From women's suffrage to speech rights on campus, I spent my week in Washington focused on freedom. Keep reading for updates on this and more...plus a surprise recipe from yours truly!

Senate Insider

Those Fierce, Focused Women Suffragists

These days, when people outside the state of Tennessee think about Nashville, their minds probably go straight to country music, hot chicken, and bachelorette parties. But in 1920, it was the place to be for activists on both sides of the fight for women's suffrage.

This week, I joined my colleagues in honoring the suffragists on the floor of the United States Senate. I spoke about fearless Tennessee women like Anne Dallas Dudley, Abby Crawford Milton, and Ida B. Wells, who persevered in the face of political pressure, mockery, and violence. Those women, and others like them, are the reason that on August 18, 1920, Tennessee became the 36th and final state needed to approve the ratification of the 19th Amendment.

I'm humbled that I had the opportunity to speak about Tennessee's unique role in ensuring that all Americans can enjoy the right to vote.

The Women's Suffrage Centennial Commemorative Coin Act

Every time I walk into the Senate chamber, I am overwhelmed with gratitude for the passion and sacrifice of the female suffragists. That's why I joined my friend on the other side of the aisle, Senator Kirsten Gillibrand, in working to pass the Women's Suffrage Centennial Commemorative Coin Act.

The bill authorizes the Treasury to mint silver coins honoring women suffrage activists. In 2020, you'll have the opportunity to purchase one, so keep an eye out for that. Proceeds from the sale of the coin will first go towards covering the cost of production (so no taxpayer dollars are spent!) and then support the Smithsonian Institution's American Women's History Initiative.

Defending Free Speech on the American College Campus

It's undeniable: the First Amendment is in danger on the American college campus. From bureaucratic loopholes to intimidation to outright violence, conservative students are finding it increasingly difficult to make their voices heard.

This week I introduced the Campus Free Speech Resolution of 2019 as a first step in restoring sanity to free speech for American college students.




We have a duty to make sure younger generations understand that protecting the First Amendment means protecting each other in the public square--even if we want more than anything to shut down what we're hearing.

In the News

I spent some time with Trish Regan over at the Fox Business Network breaking down the ways that sanctuary cities put Americans in danger.




Remembering D-Day

Soldiers, Sailors, and Airmen of the Allied Expeditionary Force! You are about to embark upon the Great Crusade, toward which we have striven these many months. The eyes of the world are upon you. The hopes and prayers of liberty-loving people everywhere march with you.

No matter how many times I hear it, General Dwight D. Eisenhower's D-day statement gives me goosebumps. Operation Overlord was the Allies' best hope for victory in Europe, and on the eve of June 6, 1944, thousands of soldiers found themselves looking toward the French coast not knowing if they would survive the night, much less the war to come.

Their devotion and sacrifice inspires me to do all I can to support the men and women currently serving in our armed forces.


Tennessee Tuesday

The best part of my week is meeting and greeting friends from the great state of Tennessee!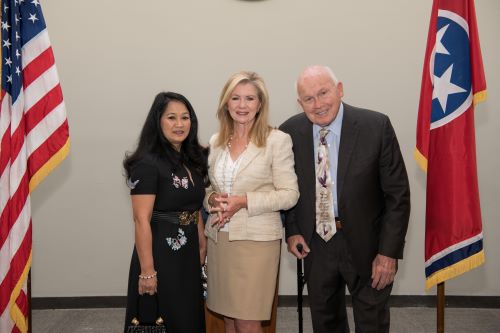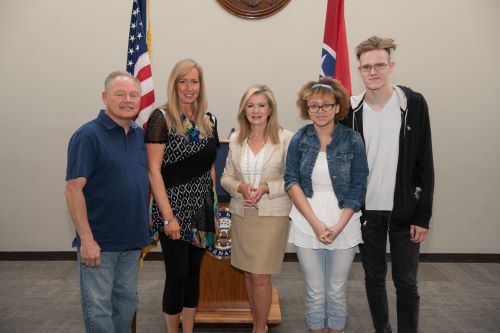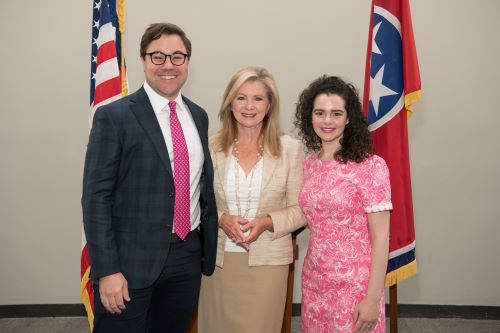 Want to stop by next time you're in Washington? Call our DC office at (202) 224-3344 to sign up for Tennessee Tuesday.


In the Garden

One of my favorite things about early summer is seeing what my neighbors have been up to getting their gardens ready for warmer weather. My friend Lisa Manning recently received a huge honor from the Smithsonian Institution: her beautiful Nashville garden has been added to the Archives of American Gardens!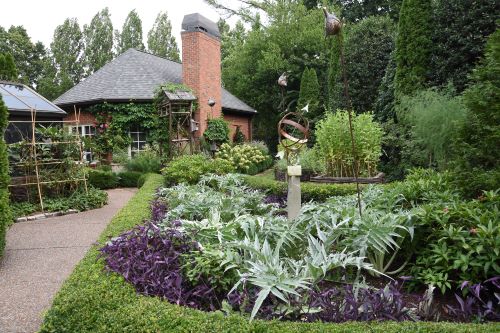 Congratulations to Lisa for this honor, and for the awesome profile in NFocus Magazine!


It's National Country Cookin' Month!

It's early summer, which means that our weekends are about to fill up with family picnics and community gatherings. If you're anything like me, you want to be sure whatever you bring to share is a smash hit--which is why I'm sharing one of my favorite recipes. Quiche is always a crowdpleaser, and I've put my own twist on the classic recipe.
Quiche a la Blackburn
1 9-inch pie crust, unbaked
3 large eggs
1 3/4 cups half and half
1 cups shredded cheddar cheese
1/2 cup shredded provolone cheese
1/2 cup crumbled feta cheese
1/2 teaspoon salt
1/2 teaspoon pepper
1 teaspoon seasoning salt
Extras
8 slices bacon
1/2 cup chopped baked ham
1/2 cup cooked spinach, steamed asparagus, sauteed onions, dried tomatoes, peppers

Preheat oven to 450 degrees. Bake the pie crust for 5 minutes (just long enough to set the crust!). Reduce oven temperature to 325 degrees. Break eggs into a glass bowl and beat until frothy. Add cheese, milk, and seasoning to the eggs. Whip with a fork. Pour the mixture into the pie crust, and add your choice of "extras." Place in the oven and cook for 30 to 40 minutes.

Enjoy!